Topeka Healthy Events Calendar
Send your Healthy Event information to info@TopekaHealthandWellness.com
PLEASE NOTE: Events highlighted in BLUE on our print and online calendars are from organizations that support Metro Voice News and Topeka Health & Wellness magazine through their advertising dollars each month. Please let them know you appreciate their support of our efforts. If you are not a regular advertiser, you can still have your event highlighted in blue, in print and on our website, for only $29, and we will also promote it on social media!
FOR MORE EXPOSURE, ask about an economical display ad: Email info@TopekaHealthandWellness.com or call 785-380-8848. Our display ads are the lowest cost-per-thousand way to get your message out to our 10,000 family readers. Business-card-size ads are as low as $50 per month! Mention this message and save an extra 10%! Call 785-380-8848 for information about advertising your event.
*******************************************************************************
OCT. CYCLING EVENTS – Various cycle rides are offered by Kansas Cyclist. www.kansascyclist.com/
OCT. OUTDOOR ACTIVITIES – Outdoor events and activities. www.getoutdoorskansas.org/calendar
SATURDAY NIGHT CRUISES – 1st Sat. – Spangles, 29th & Topeka Blvd.; 2nd Sat. – Fairlawn Plaza; 3rd Sat. – The Dugout, 17th & Fairlawn; 4th Sat. – The Pad; 5th Sat. – The Dugout.

KANSAS CITY RENAISSANCE FESTIVAL – Sep. 3 – Oct. 16, 10am-7pm; Weekends only plus Labor Day and Monday Oct. 10.  628 N 126th St., Bonner Springs, KS. www.KCRenFest.com.  913-721-2110 (email voice@cox.net to see how to get free tickets from Metro Voice!)
GARY'S PUMPKIN PATCH & FALL FESTIVAL – Sept. 30-Oct 30, Fri. – Sat. – Sun., 5991 17th St. Grantville, KS. 8 Acre Corn Maize, Pig Races, Corn Pit, 2 Jumping Pillows, Giant Slides, Animals, and more. Home Made Curly Fries, Hamburgers, Brats, Turkey Legs, Apple Cider Slushy and Fireworks every Friday at 9pm!. garysberries.com, garysfarmfest.com; 785-246-0800
VAPING: MYTHS AND FACTS – Oct. 6, 4:30pm, Kay McFarland Garden, 635 SW Gage. Includes Q & A and refreshments.
PAUSE WOMEN'S CONFERENCE – Oct. 7, 6:30-9pm; Oct. 8, 8:30am-12pm. First Southern Baptist Church, 1912 SW Gage. Kim Harrison is the featured speaker. Register TODAY at fsbctopeka.org/pause
FALL FUN NIGHT – Oct. 7, 7pm, Lakeview Church of the Nazarene, 2835 SE Croco Road. Food, fun, laughter, games, music, fellowship, bonfire, s'mores, & more
HAUNTED WOODS – Every Fri. & Sat. In October, starting the 8th, 8-11pm. Forest Park, 3158 SE 10th St. Annual guided Half-Mile Trail of Terror populated with Monsters; Zombie Laser Tag!! 234-8024 TopekaHauntedWoods.com
TOPEKA GEM AND MINERAL SHOW – Oct. 8-9, Ag Hall. Featuring dealers from around the world, demonstrations, kid's activities, jewelry, cut & polished stones and more.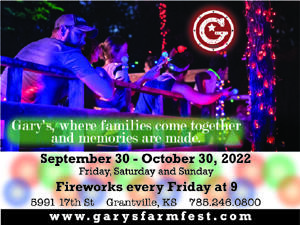 2nd ANNUAL TOPEKA FALL FEST – Oct. 8, 10am-3pm, at the Vinewood, 2848 SE 29th St.  Live music, a craft & vendor fair, food trucks, and a health & fitness fair, plus games and activities for kids. Admission is free!  Dozens of local businesses, non-profits & churches will operate games & activities such as Face Painting, Craft Stations, Inflatables, Petting Zoo, Cake Walk, Pumpkin Decorating, Trunk or Treat and more!  We'll have a Health & Fitness Fair sponsored by Topeka Emerald City Cosmo Club, featuring Health Screenings & Fitness Demonstrations, Information & Educational Booths, Health & Safety Products and more.  For more information, email info@C5Alive.org.
HEALTH & WELLNESS FAIR – Oct. 8, 10am-3pm, at the Vinewood, 2848 SE 29th St. Hosted by the Emerald City Cosmopolitan Club. Free screenings, demonstrations, vendors and healthy food. Get the information you need about diabetes and other health topics. Live music and carnival outside at the same time! 
BOO BASH – Oct. 12, 6-7pm, Crestview Community Ctr. Participants will get to have fun with a story, craft and ghostly activities. Pre-register by Oct. 5. https://bit.ly/3D3DQag
C5Alive "POWER" LUNCHEON – Oct. 13, 11:30-1, at The Peak. Featured Speaker is Spencer Lindsay, Working Men of Christ and Crossroads Restoration, Inc. Cost: $10 for C5 members & first-time guests who RSVP, $12 at the door. $15 for non-members & repeat guests. Please RSVP to info@C5Alive.org, so we know how much food is needed! Open to the public – Put POWER in your life with great food, great speakers and great company! Invite a friend to join you! SAVE THE DATE: C5 POWER Luncheon, Nov. 10, 11:30-1, at National Guard Museum, sponsored by ServPro.

TOPEKA WOMEN'S CONNECTION "Fantastic Fall" LUNCHEON – Oct. 13 11:30am, Aldersgate Village 7220 SW Asbury Drive. The speaker will be Donna Doel, Life Coach at Midland Care. A feature presentation by Alicia Skinner, dietitian. Prepaid luncheon reservations are $16 and are due by Oct. 9, by calling (785) 224-5268. There is no charge to attend the program only.
STEVE KILE – Oct. 14, 7pm, The Vinewood. Doors open at 6. Cash bar & snacks available! Tickets: $10 at the door or at thehistoricvinewood.com. 785.260.6772
WOOD VALLEY PICKERS – Oct. 15, 7:30pm, Classic Bean, Fairlawn Plaza. Folk & Country, Free admission. 785-271-5005
HOLIDAY FLEA MARKET & CRAFT SALE – Oct. 15, 9-3, Philip Billard VFW Post, 3110 SW Huntoon.
WALK FOR APRAXIA – Oct. 15, 10-1, Lake Shawnee Shelterhouse #4. Register: http://community.apraxia-kids.org/topekawalk
MAPLE LEAF FESTIVAL – Oct. 15, 10-4, Baldwin City
GREEK FOOD FESTIVAL – Oct. 15, 11am, St Peter & Paul Church, 2516 SW Huntoon.
HARVEST FESTIVAL – Oct. 15, 11am-2pm, Highland Heights Christian Church, 29th & Tecumseh
HOLIDAY FLEA MARKET & CRAFT SALE – Oct. 15, 9-3, Philip Billard VFW Post, 3110 SW Huntoon.
TOPEKA NORTH OUTREACH"S OPERATION BACKPACK FUNDRAISER – Oct. 18, 5-9pm, The Pad, 1730 NW Topeka Blvd. Operation Backpack will receive 10% of all proceeds. For info: topekanorthoutreach.org/operation-backpack
RED CROSS BLOOD DRIVE – Oct. 21, 9am-3pm, Christ Lutheran Church, 3509 SW Burlingame. To make your life-saving appointment call 800-RED-CROSS or visit www.redcrossblood.org (sponsor code: TopekaCLC). Bring a photo ID, drink plenty of water and eat prior to your appointment. Save time at your appointment by completing RapidPass – pre-reading and questions – the DAY OF your appointment via the blood donor app or visit www.redcrossblood.org/rapidpass.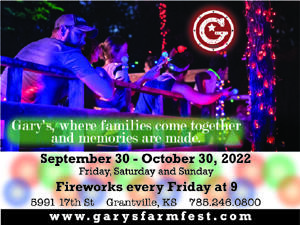 HARVEST DINNER & BAZAAR – Oct. 21, 4:30-6:30pm, Kansas Ave United Methodist Church, 1029 N Kansas Ave. $8.00 Adults, $4.00 Kids 10 & under.  Includes Chicken Fried Steak, mashed potatoes & gravy, corn or green beans, roll, dessert and drink.
GUARDIANS IN CONCERT – Oct. 21, 7pm, Wanamaker Woods Nazarene, 3501 SW Wanamaker. Free will offering, doors open at 6pm. 785-273-2248, wwoodsnaz@wwnaz.org
RANDY STONEHILL CONCERT – Oct. 22, 7pm, Seaman Community Church, 2036 NW Tyler. Free will offering.
DUELING PIANOS – Oct. 22, doors open at 7pm, Ag Hall, Taco bar, silent auction, games, dancing, cash bar. Benefits LIfeHouse CAC.
BOO AT THE ZOO – Oct. 22 & 29, 9-3pm, Topeka Zoo. Free with paid admission
FALL FESTIVAL – Oct. 22 & 23, St Matthew Catholic Church, 2700 SE Virginia
TRUNK OR TREAT – Oct. 22, 4pm, Jardine Elementary School.
GHOULS & GOBLINS FUNDRAISER – Oct 28, 5-7pm, Golden Corral. Costume contest, prizes, treats and more. Fundraiser for Topeka Youth Project.
GOOD OL BOYS & A GAL – Oct. 28, 7pm, The Vinewood. Doors open at 6. Cash bar & snacks available! Tickets: $10 at the door or at thehistoricvinewood.com. 785.260.6772
SILENTS IN THE CATHEDRAL – Oct. 28, 7-10pm, Grace Cathedral
PLATINUM EXPRESS – Oct. 29, 7pm, The Vinewood. Doors open at 6. Cash bar & snacks available! Tickets: $10 at the door or at thehistoricvinewood.com. 785.260.6772
LIVERPOOL LEGENDS – Oct. 29, 7:30pm, TPAC
DRIVE-THRU TRUNK OR TREAT – Oct. 29, 1-3pm, Christ Lutheran Church
FALLAPALOOZA – Oct. 29, 3-5pm, Fairlawn Church of the Nazerene, 730 SW Fairlawn
TRUNK OR TREAT – Oct. 29, 5-6:30pm, Capital Gymnastics, 3740 SW Park Ave.
TRUNK OR TREAT – Oct. 30, 5-7pm, Grace Cathedral, 701 SW 8th
TRUNK OR TREAT – Oct. 30, 2pm, Topeka Bible Church
TRUNK OR TREAT – Oct. 31, 5-7pm, Wanamaker Woods Church, 3501 SW Wanamaker.
FALL FESTIVAL – Oct. 30, 3pm, Faith Lutheran Church, 17th & Gage. Worship with Communion at 3pm, a short Bible Study after. Games will begin at 4:30pm. Free Meal provided by KansaSEED will begin at 5:30pm. Join us for all or parts
TRUNK OR TREAT – Oct. 31, 5:30-6:30pm, KS Big Brothers/Big Sisters, 2300 SW 29th
TRUNK OR TREAT – Oct. 31, 5-7:30pm, Lakeview Church of the Nazarene, 2835 SE Croco Road. Parent meeting, meet your teacher, pick up supplies, find classroom, enjoy snacks & fellowship! Hot Chocolate, Hayrack Ride, Hotdogs, Candy, Fun, Games, Popcorn, & more! 785.266.3247
COMEDIAN JP SEARS – Nov. 11 8pm, TPAC
ONGOING:
MONDAY FARMERS MARKET – Mondays 7:30-11:30am, May 9 to Oct. 3, Topeka & Sh. Co. Library, 10th & Washburn. (closed Memorial Day & Labor Day)
SILVER LAKE FARMERS MARKET – Tuesdays 6-8pm, June 7-Sep. 13, Silver Lake Library, 203 Railroad St.
DOWNTOWN TOPEKA FARMERS MARKET – Saturday's April 2 to Oct. 29, 7:30am-noon, 12th & Harrison. The open-air market is full of fresh fruits and vegetables, herbs, arts & crafts, flower, home-baked goods and more.
BREAD BASKET FARMERS MARKET – Saturday's, 7:30am-1pm, through Nov. 19, south end of West Ridge Mall.
OPEN INDOOR COURT PICKLEBALL – Sundays at 4pm, Berryton United Methodist Church (7010 SE Berryton Rd. All ages and abilities welcome.
OVERCOMER'S OUTREACH ANONYMOUS RECOVERY SUPPORT GROUP – Mondays 6:30-7:30pm, at Be Filled Of South Topeka, 200 Airport Rd, Bldg. 818 Suite 1. Led by Pastor Bill Ritchey. 785-817-2802

FREE MOBILE FOOD DISTRIBUTION – Fourth Tuesday through November, 9am, 1231 NW Eugene St. Randel Ministries, Inc., in partnership with Harvesters and Family of God Church will be conducting its monthly food distribution. No ID or proof of income required, first come first served. Distributing several tons of fresh produce and other items to families in need. (785) 234-1111 www.RandelMinistries.com
BINDING UP THE BROKEN HEARTED – Sessions offered for women who suffer from the after-effects of abortion.  All the women who lead these sessions have had an abortion and have received healing from God's Word.  For more information, contact local Healing Hearts representative Shelly Brush, Topeka First Southern Baptist Church, Topeka, KS, at shelly.b@healinghearts.org.  All communication is confidential and secure.
SENIORS NUTRITIONAL LUNCH – Weekdays, except holidays, at noon at Auburn Civic Center, 1020 N. Washington St. Minimal cost per person. Reservations/cancellations are required 24 hours in advance by calling 295-3980. Each meal includes 1% milk and sugar-free items are included for diabetics. 785-215- 0064.
MARKET MONDAYS – Monday 3-7pm through October, Evergy Plaza. A farmers market and artisan market helping to increase access to fresh, locally produced foods and other products.
MEDICARE MONDAYS – First Mon. of ea. month, 1-3pm. Topeka/Sh. Co. Public Library (Menninger Room 206), 1515 SW 10th. Senior health insurance counseling. For info: 580-4545 or nhonl@tscpl.org
TOPEKA MANKIND PROJECT – Mondays, 6:30pm, 2112 SW Morningside Rd. Supports men in becoming their best selves, including physical, mental & emotional health & wellness. Open to any man. Brian Thomas: brian.thomas01@gmail.com or 785-727-9439
SENIOR STRETCHING EXERCISES – each Mon. – Wed. – Fri., 9:30-10:15am, Seaman Community Church, 2036 NW Taylor St. Enter on the east side of the Fellowship Hall. No Charge. 785-354-8777 or 785-213-6016
SENIOR FIT & FUN PROGRAM – every Mon., Wed., & Fri., 1:30pm, Rolling Hills Christian Church, 4530 NW Hiawatha Place (US Hwy 75 & NW 46th St.) 785-286-0601 or office@rhcctopeka.org
TRAIL LIFE & AMERICAN HERITAGE GIRLS TROUPS – Every Mon. 6pm, Cornerstone Comm. Church, 7620 SW 21st. Faith-based scouting programs are kids age 5-18. Register online at cornerstonetopeka.com. For info: 478-2929.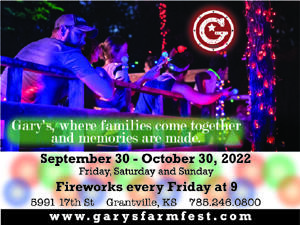 GRIEF SUPPORT GROUP – First Monday each month, 3:30-4:30pm, 400 SW Oakley. Call Donna Park for info: 783-7527 or visit www.valeotopeka.org. Open to the public. Free
HEARTLAND HEALTHY NEIGHBORHOODS – 2nd Mon., 11:45am-1pm. Promoting neighborhood well-being by mobilizing people, ideas & resources. 233-1365.
TOPEKA TWILIGHT LIONS BRANCH CLUB – 4th Mondays at 5:30pm, Norsemen Brewing Co., Visitors welcome.
OSTOMY SUPPORT GROUP – First Tuesday of each month at St. Francis Health, 1700 SW 7th St, Meeting Room, 2nd floor, 6:00 – 7:30 PM. Anyone with an ostomy may attend. The goal is to provide education and ongoing support for individuals with an ostomy. Contact Teresa Kellerman at 785-295-5555 for information.
FIBROMYALGIA & CHRONIC FATIGUE SYNDROME SUPPORT GROUP – 2nd Tue., 7-9pm. First Congregational Church, 17th and Collins. For info: Randy at 785-969-4038 or TopekaCFS@outlook.com.
EMOTIONS ANONYMOUS: 12-step program for those suffering with emotional instability such as depression, anxiety, grief, etc. Meets every Tues. at Grace Episcopal Cathedral, Noon-1pm. N/C. Sharon: 785-633-7764
LADIES' EXERCISE – Tue. evenings 7-8 pm & Fri. mornings 8-9 am, First Baptist, 129 w 15th St., Lyndon. free active support: fat burning, strength, fitness. Contact Sheri 207-0380 or pamperedchefsheri@live.com
LIBRARY'S LEARN & PLAY BUS – Every Tuesday 1-3pm, Auburn Community Center.
GRANDPARENT/RELATIVE CAREGIVER SUPPORT GROUP – 3rd Tue., 6:30-8pm, 2nd floor meeting room, St. Francis Hosp, 1700 SW 7th. For info: Sharla, 286-2329; Jennie (English/Spanish) 231-0763.
SILVER LAKE FARMERS MARKET – Tuesdays 6-8pm, June 1-Sep. 7, Silver Lake Library
SAFE STREETS COALITION MEETING – First Wed. of the month, 11:45am-1pm. Great Overland Station. For info: 266-4606 or jwilson@safestreets.org
GAMBLERS ANONYMOUS – Every Wed, 7pm, St. Francis Hospital, meeting room #8.
JAYHAWK AREA AGENCY ON AGING – 4th Wed., 1pm, Rosehill Place Clubhouse. Monthly support group for caregivers of seniors. For info: 235-1367 ext.30.
VIP LUNCHEON FOR SENIORS – Every Wed., 10:45 bible study and meal at Noon, Topeka Church of the Brethren, 3201 NW Rochester Rd. (1 mile north of Dillon's North). FREE lunch with Christian fellowship, devotions & entertainment provided by Topeka North Outreach, Free will donations accepted. For info: 785-224-8803 or vip@topekanorthoutreach.org
OPERATION BACKPACK – 1st Thurs., 6pm, Indian Creek Elementary, 4303 NE Indian Creek Rd. Volunteers gather to assemble Weekend Snack Sacks for low-income students. No meeting in July and August. Sponsored by Topeka North Outreach. For info: 286-1370.
TOPEKA AREA BRAIN INJURY SUPPORT GROUP – Third Thur. every month, 6-7:30pm, Kansas Rehabilitation Hospital, 1504 SW 8th Ave. , employee cafeteria on 1st floor. All survivors, family, & friends welcome. Call Faye Miller: 207-2606 or Randy Williams: 232-8553
COUNTRY AND BALLROOM DANCING – Thursday's 6-9pm. Croco Hall. For info: Edwina 379-9538 or 478-4760.
SHEPHERDS CENTER LINE DANCING GROUP – meets 2nd & 4th Thursdays, 2-4pm at First United Methodist, 6th & Topeka. Park on west side & use west door, turn left & walk the ramp to the library, then left to the elevator. Push [B] to go to the fellowship hall. 785-249-3258.
STROKE SUPPORT GROUP – The 1st Friday of every month from 4pm-5pm in the cafeteria of the first floor of Kansas Rehabilitation Hospital, 1504 SW 8th Ave. Meet other stroke survivors, their families, and hear guest speakers discuss topics related to recovery. Contact Randy Williams at (785)232-8553 with any questions.
NICOTINE ANONYMOUS – Every Fri., 6:30pm, Town & Country Christian Church Renaissance Room, 4925 SW 29th St., use west door cross red foot bridge. A fellowship of men & women helping each other to live free of nicotine. No fees. 402-321-486; Laboomaha@att.net.
NOTO MARKET & ART WALK ON FIRST FRIDAYS – NOTO arts district. Enjoy arts, antiques, fine crafts, and flea market items.
CELEBRATE RECOVERY – Every Fri., 6pm, 1912 Gage Blvd. A Christ-centered program, based on 8 principles found in Jesus' Sermon on the Mount. Applying these Biblical principles, become free from addictive & dysfunctional behaviors.  crtopekaks.org.
TOPEKA NAR-ANON FAMILY GROUP – For families & friends who are affected by someone else's narcotic addiction. Every Sat., noon-1:15 pm, rm. A, 1st Baptist Church, 3033 SW MacVicar, enter on S. side, door A. http://www.naranonmidwest.org
SATURDAY FAIRLAWN STARTER BIKE RIDE – Every Sat., start at 8am at Classic Bean in Fairlawn Plaza, end at Pizagle's. Great for beginners. director@cottonwood200.org
HARVESTER'S PROGRAM FOR SENIOR CITIZENS – every second Sat., takes place at Christian Lord Ministries, 2421 SE California. Call 266-4979.
THE BERRYTON PICKERS – First Sat. of ea. month, 7-9pm, Berryton Baptist Church. Bring snacks, have fun!
LAWRENCE FARMERS MARKET – Sat. 7:30-11:30, 824 New Hampshire Street. Open April 10-Nov. 20
HERBTalk – Topeka herbs study group meets Third Saturdays for fun and interactive group learning and sharing about herbs/medicine plants. 7321 SE 45th, Prairie Meadow Greenhouse. RSVP Amy 785-379-8848. $5.00 cash only charge; Free beverages and herb snack samples. Lunch option $6.00. talkherbswithus@gmail.com
TOPEKA FOLK DANCERS CLASSES – Sundays, 2-4pm, 2637 SE 41st St. Dances from 20 countries. No partners or experience necessary. No fee. 215-0968.
KANSAS PRAIRIE PICKERS – Fourth Sun. ea. Month, 1pm, Auburn Community Center. Foot-stomping, hand-clapping tunes to tickle your fancy. Concessions available
SQUARE DANCING – Shawnee Swingers has monthly dances and sponsors lessons in the Fall. For info, call or text 785-845-2357 or email shawneeswingers@gmail.com. On Facebook: Shawnee Swingers Square Dance Club. wesquaredance.com
SEX TRAFFICKING INFORMATION – 785-230-8237
ABORTION RECOVERY SUPPORT – Providing services for women & men who suffer from Post-Abortion Syndrome…we can help mend a broken heart! For info: Kay Lyn at KLCarlson20@cox.net.
AL-ANON FAMILY GROUPS – for friends & families of alcoholics. For info: 785-409-3072 or topekaalanon.org
ALZHEIMER'S SUPPORT GROUPS – Monthly support group meetings for caregivers of individuals with Alzheimer's disease or a related dementia. For info: Alzheimer's Association, Heart of America Chapter, 271-1844 or email cindy.miller@alz.org.
CAREGIVER SUPPORT GROUPS – Jayhawk Area Agency on Aging provides opportunities for caregivers to get together and share their ideas & feelings. 235-1367
HHHS Volunteer Program – Volunteers help keep animal's environments clean and enriching, socialize with and read to cats, walk dogs, and more. Please complete a volunteer application at hhhstopek.org.
*******************************************************************************
Send your Healthy Event info to:
info@TopekaHealthandWellness.com.
Call 785-380-8848 for more information about advertising your event.